Silver Spring Social Sports is here to bring adults together who want to socialize, have fun, meet new people and be active through a variety of sports and social events. All members must be 21 years of age and older. All games are co-ed and will be held in the Silver Spring area.

Congratulations to Dodge This Sucka! - Fall 2012 Dodgeball Champs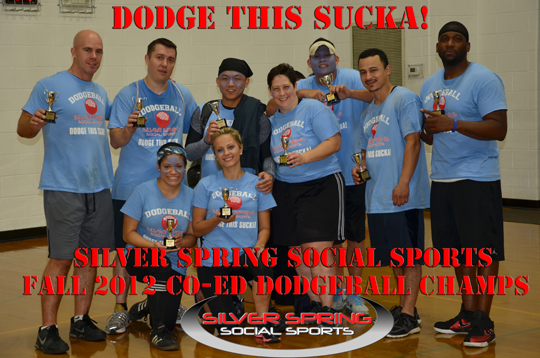 Congratulations to Anytime Fitness - Fall 2012 Football Elite Champs
Congratulations to Kiss My Shanny - Fall 2012 Football Socialites Champs
Congratulations to Fly Ballers - Summer 2012 Softball Champs
Congratulations to The Royal Flush - Spring 2012 Football Champs
---
Want to Play for Free?
Be the captain of your own team with at least 12 players and your registration fee
is waived.
---
Interested in being a Referee?
Contact us at 301-956-9960 or email us at info@silverspringsocialsports.com
---